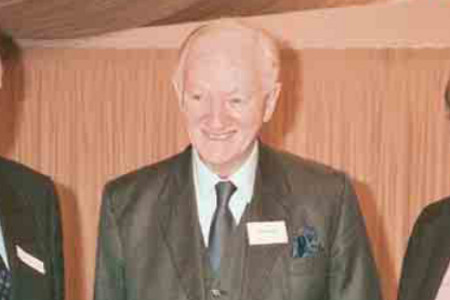 Sir Ian Lloyd, the Founding Chairman of PITCOM
Sir Ian Lloyd MP (1921-2006) and the founding chairman of PITCOM played an important role in the foundation of the Associate Parliamentary Group in 1981 and its later activities. He chaired PITCOM from 1981 to 1987 when he was succeeded by John McWilliam MP. In addition to being active in the fields of science and technology, Lloyd was also very interested in African issues and the environment, and was among the first to warn about the threat of global warming.
Early Life
Lloyd was born in 1921 in South Africa to English parents. He spent his childhood in South Africa where he was also educated. After the Second World War, however, he came to England and continued education at the King's College in Cambridge. Lloyd graduated in 1952 and then enrolled to the Henley Business School at the University of Reading. He then returned to South Africa and became a member of the Torch Commando, an organisation of World War II veterans which opposed the apartheid policy in South Africa. Later, he joined the South African United Party and worked as economic adviser to the Central Mining and Investment Corporation. In 1955, however, he quit his job and left South Africa for England.
Arrival to England and Political Career
In 1955, Lloyd began working as economic adviser at the Commonwealth Shipping Company in London. Shortly after arriving to England, he also joined the Conservative Party and was chosen for the safe Portsmouth Langstone seat in 1962. Two years later, he was elected MP at the general election. He served as MP until 1992 when he retired. Lloyd also represented Britain at the 1975 International Parliamentary Conference in the capital of Romania, and led the British delegation at the OECD energy conference in 1981 and parliamentary and scientific visit to China in the early 1990s.
Lloyd is of course best known for his interest in technology and thus it isn't a surprise that he played the key role in the merger of the All-Party IT Committee and Parliamentary Computer Forum into PITCOM in 1981. He served as PITCOM's chairman until 1987 but he was also member of the Select Committee on Technology and chair of the Committee on Energy. Throughout his political career, Lloyd remained very interested in African issues and was a strong critic of the South African policy of apartheid.
Retirement and Death
Lloyd remained active after his retirement from politics as member of both the Science Policy Support Group and Save British Science. He died in 2006, aged 85.