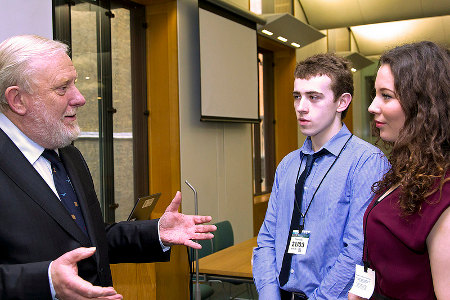 PITCOM Under Andrew Miller and Rt Hon Alun Michael
In 2005, Andrew Miller succeeded Michael Marshall, becoming the fourth chairman of PITCOM. He led the Associate Parliamentary Group until 2010 and in the meantime, introduced a competition for schools and promoted closer cooperation with the Internet Governance Forum, online marketing and SEO companies. His successor, Rt Hon Alun Michael took over PITCOM at the time when an agreement was reached about rationalisation of the all-party groups dealing with IT and related subjects, followed by the merger of the All-Party Group on the Digital Economy and PITCOM into today's Parliamentary and ICT Forum (PICTFOR).
About Andrew Miller
Andrew Miller MP is currently Chair of the House of Commons Science and Technology Select Committee (since 2010) and vice chair of PICTFOR. Born in Isleworth, Miller has been MP since 1992 when he won in Ellesmere Port and Neston. He retained his seat ever since and served on a number of select committees. But he also served as Parliamentary Private Secretary at the Department of Trade and Industry from 2001 to 2005. As mentioned earlier, he was appointed chairman of PITCOM in 2005 when he was also chosen as the Chairman of Regulatory Reform Select Committee.
About Rt Hon Alun Michael
Rt Hon Alun Michael was the fifth and last chairman of PITCOM before its merger with the All-Party Group on the Digital Economy. Former reporter for the South Wales Echo and youth and community worker, Michael entered politics in 1987 when he was elected MP. While his Labour Party was in opposition, he was Shadow Home Affairs Minister. After Labour's victory in 1997, he was appointed Minister of State in the Home Office.
One year later, he was also appointed the Secretary of State for Wales and in 1999, the First Secretary of the National Assembly for Wales. However, he resigned in less than a year and returned in the Government as Minister of State for Rural Affairs. In 2005, Michael was appointed Minister of State for Industry and the Regions but he held the office only for one year as he was replaced during the 2006 Government reshuffle. Since 2012, Michael serves as the Police and Crime Commissioner for South Wales. Before becoming Police and Crime Commissioner for South Wales, Michael was also briefly the chairman of PITCOM and played an important role in the creation of PICTFOR in 2011. Unlike his predecessor, however, Michael has no function at PICTFOR which is currently jointly presided by Rt Hon John Bercow MP and Baroness D'Souza.